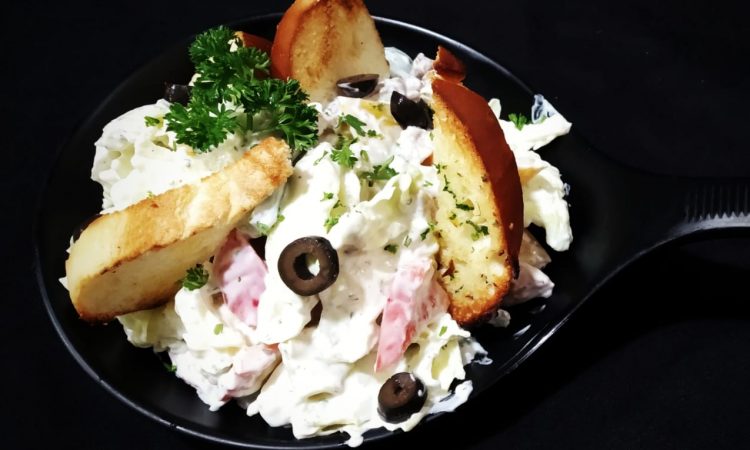 It's a salad preparation of lot of crunch iceberg, tomato segments and egg-less crème mayonnaise with black olive and lot of fresh chopped parsley, served with roasted French garlic slices.
Recipe Type: Salad                                                                                Style: French Cuisine
Method: Tossed                                                                                      Served: 1-2
Ingredients:-
100 gm. of Crunch Iceberg
30 gm. of Tomato Segments
1 Tbsp. of Black Olive
½ Tsp. of Fresh Parsley Chopped
For Dressing:-
2 Tbsp. of Olive Oil
2 Tbsp. of Egg-less Mayonnaise
2 Tbsp. Parmesan Cheese
Salt & Pepper to taste
Preparation:-
Broken iceberg lettuce and insert in cold ice water for 8-10 minutes.
Make a dressing in small bowl with egg-less mayonnaise, Parmesan cheese, olive oil, salt and pepper according to taste. Mix all ingredients very well.
Cut a slice of black olive & tomato segments and keep in side.
Cut a slice of French garlic loaf and bake in oven in temperature of 180'C.
Icebergs remove from ice water and soaked.
After insert in mixing bowl soaked crunchy iceberg lettuce, segments of tomato, and Parmesan cheesy mayonnaise dressing.
Pour salad in platter and topping with chopped fresh parsley, black olive slices & garlic French loaf.