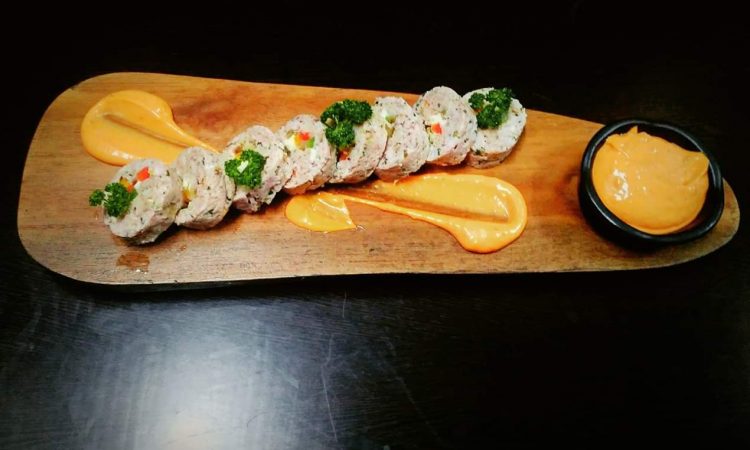 Western appetizer making with minced chicken & fresh herbs, Stuffed with cheese and veggies, served with chipotle dip.
Recipe Type: Appetizer                                                                           Style: Italian Cuisine
Method: Steam/ Broiling                                                                         Served: 1-2
Ingredients:-
200 gm. Chicken Minced
2 Tbsp. Grated Fresh Cheese
1 Tsp. Fresh Green Parsley Chopped
1 Tsp. Fresh Basil Leaves Chopped
1 Tsp. Leeks Fine Chopped
1 Tsp. Chopped Garlic
2 Tbsp. Bell Pepper Fine Chopped
Salt to Taste
½ Tsp. Pepper
½ Tsp. Dried Oregano
Silver Foil
Water for broiled
Preparation:-
Minced of chicken pour in mixing bowls.
Add seasoning (salt, pepper, dried oregano).
Chopped fresh parsley, fresh basil leaves after wash & celery stalk and garlic chopped very fine.
Mix all ingredients in minced chicken bowl very bell.
Take a one feet of silver foil piece and press minced chicken on this after then pour -chopped bell pepper and grated cheese, after then wrapped foil like a roll.
Keep this roll in freezer for ten minutes.
After ten minutes broil in hot water for 10-12 minutes.
Then its cook removed silver foil and cut minced roll small pieces for bites.
Then platted this on platter.
Decorate plate with chipotle dip & green parsley.