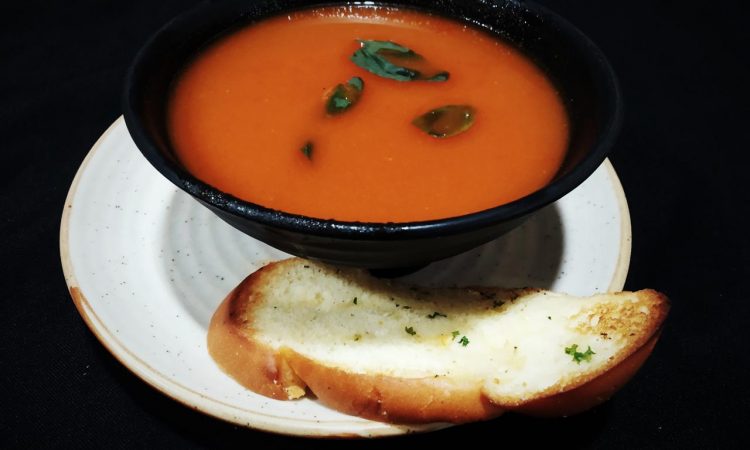 This is easy method of creamy roasted tomato basil soup full of incredible flavorful and healthy recipe. It will be served with pesto cheesy garlic bread.
Recipe Type: Soup                                                                                         Style: Italian Cuisine
Method: roasted & Boiled                                                                       Served: 1-2
Ingredients:-
400 gm. Fresh Red Tomato
2 Tbsp. Olive Oil or Refined Oil
1 Tbsp. Amul Butter
1 No's Garlic Cloves
45 gm. Fresh Basil Stalk and Leaves
1 No's Bay leaf
2-3 Black Pepper corn
One Small Nos. of Cinnamon sticks
Salt to taste (Option)
Pinch of Sugar
200 ml. Vegetables Stock
½ Tsp. Lemon Juice
Preparation:-
Take any pot or saucepan in heat flame insert olive oil when oil heated adds bay leaf, peppercorn, and cinnamon stick and cooked until light brown.
After then tomato, basil stalk, garlic pod and roast in heated saucepan for 15-20 minutes.
When it cook. After then leave for normal temperature.
Blend in mixture for making paste when it's normal.
Again heat saucepan and insert amul butter and pour paste of tomato and add salt and sugar.
Add vegetables stock, lemon juice when ready and strain with help of strainers.
After strainers pour soup in any bowl and add fresh basil leaves.
Served with garlic bread.
Note: – We are using pot roasted method because oven not available at home. If you have oven then use baking tray and process for this insert all ingredients in tray (tomato, basil stalk, garlic pod, bay leaf, peppercorn, salt & olive oil or any oil) and roast.