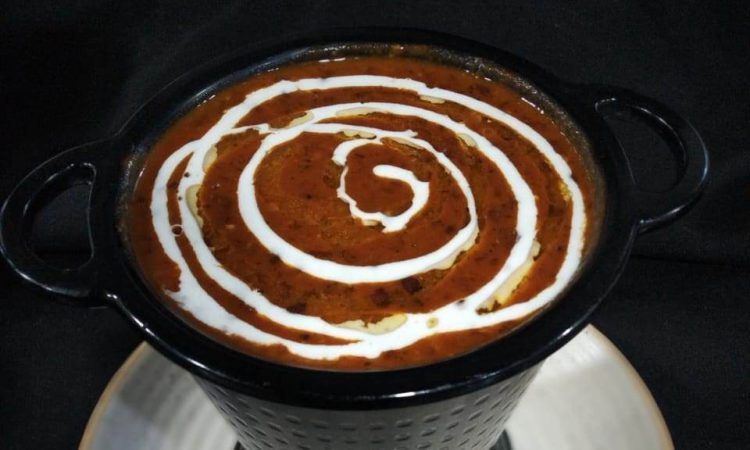 Maa Ki Dal (pronounced daal makh-nee, "buttery lentils") this dish has originating from the Punjab region of the Indian subcontinent. The primary ingredients are whole black lentil (urad) butter and cream. The dish gets its richness from the use of cream or butter.
Recipe Type: Main Course                                                                               Style: Indian Cuisine  
Method: Boiled                                                                                                      Served: 1-2
Ingredients:-
1 Kg. Urad Dal (Whole)
10 gm. Ginger
10 gm. Green Chili
1 Kg. Amul Butter
3 Tbsp. Deghi Mirch
Salt to Taste
1 Tbsp. Kasturi Methi
1.500 kg. Tomato Puree
100 gm. Deshi Ghee
1 Liter Cream
50 gm. Ginger, Garlic Paste
Preparation:-
The night before:-
Pick and wash the dal rub it with salt to remove the color. Soak it for 3 to 4 hours Drain.
Put the washed lentils in a handi, add the ginger julienne, green chilies, salt and water (the level of water should be at least 3" above the level of dal.
Bring it to boil, cover and leave on the tandoor overnight.
In the morning:-
Remove the black water & the scum, & simmer it on low heat.
Heat ½ kg butter in a separate pan and sauté tomato puree to bring out the color & put it in the dal. Add the coriander powder.
Put the remaining yellow butter & cook for further 1 hr.
Put the dal on low flame on a thick tawa, stirring from time to time to make sure that the dal doesn't stick to the bottom of the handi.
Cook the dal on the tawa for at least 3 hours. Then add in deghi mirch powder mixed in water. Cook for another 1 hour.
Put the cream, & cook till the entire thing is thoroughly cooked. (the grains of dal should be partially broken & blended with the liquid
Put the kasoori methi & mix the entire thing well. Cook for another 10 minutes.
In a separate pan heat the remaining oil & sauté the chopped garlic & put into the dal. Adjust the seasoning & consistency adding a little water if needed.
At the time of order/Serve:-
Take the required quantity of the dal in a frying pan & swirl in 2 tbsp. of cream.
Mix the cream thoroughly on fire till the whole thing comes to a boil (about 1 minutes on medium flame)
Remove to the serving bowl, garnish with the deshi ghee & pickled ginger julienne.
Note: – 1 kg of raw black dal should give 17-18 portions of Dal.