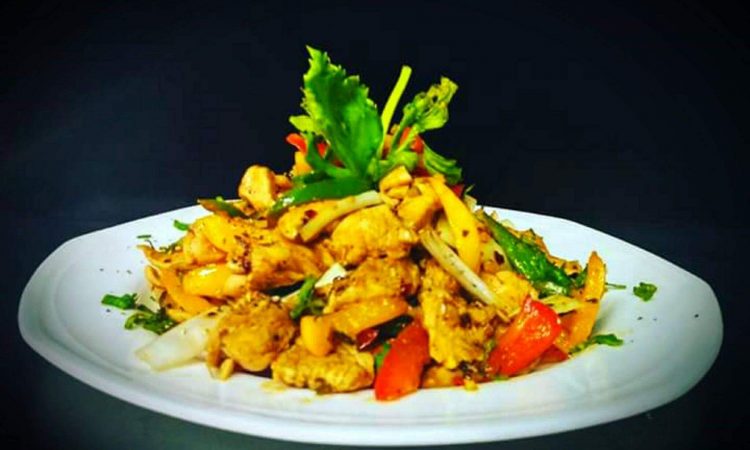 This recipe preparation of chicken fillets fresh green veggies and lot of Smokey aroma of herbs and balsamic.
Recipe Type: Salad                                                                                      Style: western  
Method: Roasted/ Tossed                                                                      Served: 2-3
Ingredients:-
120 gm. Chicken fillets
3 Tbsp. Olive oil
45 gm. Bell Pepper
Salt & Pepper to taste
½ Tsp. Dried Thyme
1 Tsp. Celery Chopped
1 Tsp. Garlic Chopped
5 ml. Balsamic Vinegar
½ Tsp. Lemon Juice
½ Tsp. Paprika Powder
½ Tsp. Green Parsley
Preparation:-
Take a misa try or any plates for marinated chicken fillets cut of shredded chunks.
Add seasoning oil, salt, pepper, thyme, garlic chopped, celery, lemon juice, balsamic vinegar, paprika powder.
Mixing together chicken chunks very bell and roasted in per-heated oven 180 C for 8-10 minutes.
Inside take a pan and insert olive oil, heated oil adds garlic chopped celery, & bell pepper sautéed.
When bell pepper come a texture also pour roasted chicken chunks and add seasoning again (salt, pepper crushed, paprika, lemon juice & fresh green parsley.
Served in salad plate or any bowls.
Garnish with sprinkle green parsley & spring of celery leaves.