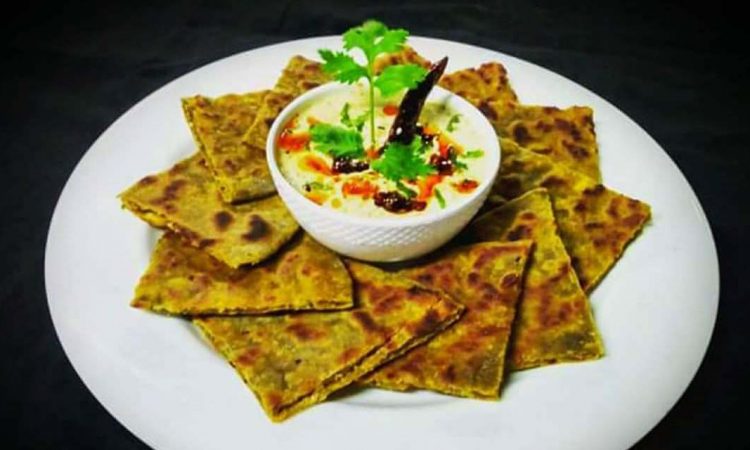 North Indian breakfast and main course healthy recipe Crisp spinach wheat bread bites prepared with nuts and Deshi Ghee, served with Masala Curd.
Recipe Type: Breakfast/M. Course                                                       Style:  Indian Cuisine 
Method: Shallow Fried                                                                                 Served: 1-2
Ingredients:-
250 gm. Wheat Flour
Salt to taste
Pinch of Sugar
1 Tbsp. Fine Chopped Ginger
½ Tsp. Green Chili Fine Chopped
20 gm. Green Coriander Fine Chopped
50 gm. Boiled Spinach Paste/Puree
100 gm. Ghee
Water for Dough
Preparation:-
For making dough take a mixing bowl.
Insert wheat flour, salt, pinch of sugar, ghee, and add boiled spinach puree with the help of water.
When dough ready add ginger, green chili, and green coriander.
After then make small lohi and make chapatti.
Heat tawa or non-stick pan and cook bread with ghee.
Served with masala curd (makes an Indian tadka with crushed coriander, whole chili, salt, degi mirch, garlic chop and coriander and pour in curd).