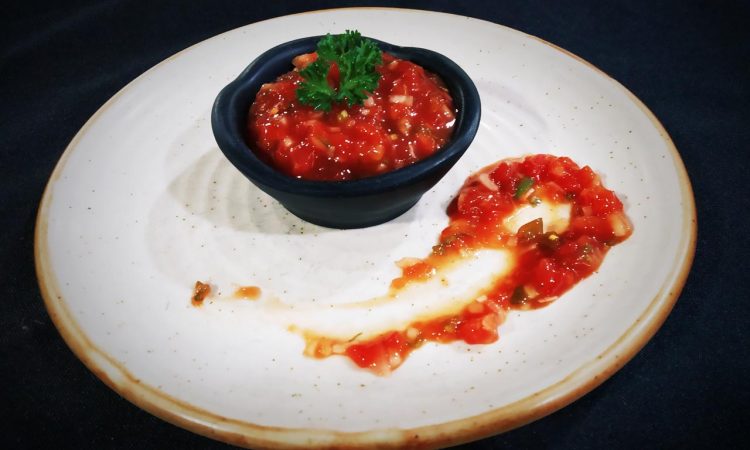 This recipe used in Mexican cuisine prepared with veggies & sauce, served with any dry started and used for any salad and main course.
Recipe Type: Salsa                                                                               Style: Mexico
Method: Blend                                                                                       Yield: 1Cup
Ingredients:-
1 Tsp. of Chopped Blanched Tomatoes
1 Tbsp. of Chopped Onion
¼ Tsp. of Chopped Fresh Green Chilies
1 Tbsp. Fine Chopped Green Coriander
¼ Tsp. of Fine Chopped Ginger
1 Tbsp. Olive Oil or Salad Oil
1 Tbsp. of Tomato Sauce
¼ Tsp. of Pepper Sauce
½ Tsp. of Lemon Juice
¼ Tsp. of Chat Masala
¼ Tsp. of Roasted Cumin Powder
¼ Tsp. of Deggi Mirch (Option)
Salt & Pepper to Taste
Preparation:-
Take a pan for blanched tomato. Removed skin and seeds after blanched in room temperature & chopped.
Fine chopped onion, green chilies, green coriander and ginger. Keep separate in bowls or plate.
Take a mixing bowl and inserts chopped cutting, tomato sauce, pepper sauce, oil, lemon juice and add seasoning (chat masala, degi mirch, roasted cumin powder, salt & pepper).
Mixing very well and got a nicely texture.
Served in dip bowls and garnish with green sprig.