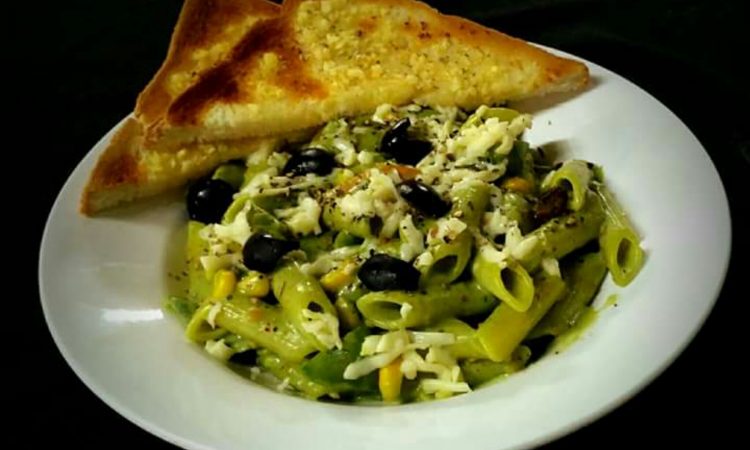 This recipe of western (Italian) cuisine making with Italian herbs and creamy cheesy pesto sauce, served with garlic breads.
Recipe Type: Main Course                                                                     Style: Western Cuisine
Method: Grilled                                                                                            Served: 1-2
Ingredients:-
1 Tbsp. Butter/Olive Oil
1 Tsp. Garlic Fine Chopped
3 Tbsp. American Corn
100 gm. Boiled Pasta (Penne/Fusilli or other pasta)
50 ml. Fresh Cream
100 gm. Fresh Basil
2 Tbsp. Pine-nut
4-5 No's Black Olive
30 gm. Parmesan Cheese or process cheesy (Grater)
Salt & Pepper to Taste
¼ Tsp. Oregano
Preparation:-
For making pesto: – Insert fresh basil leaves, pine-nuts and olive oil in any mixture jar and blend with cheese & salt.
Heat non-stick pan and cook olive oil and garlic chop & corns.
Add boiled pasta and sautéed with black olive, pesto sauce and Italian seasoning (salt, pepper, oregano).
When its cook ¼ parts add fresh cream and grated cheese.
And pour in any pasta plate or platter. Topping with lot of cheese and olive slices.
Serve with homemade garlic bread.
 Note: – Roasted tomato salsa recipe seen in our (Sauce/Dip Page).