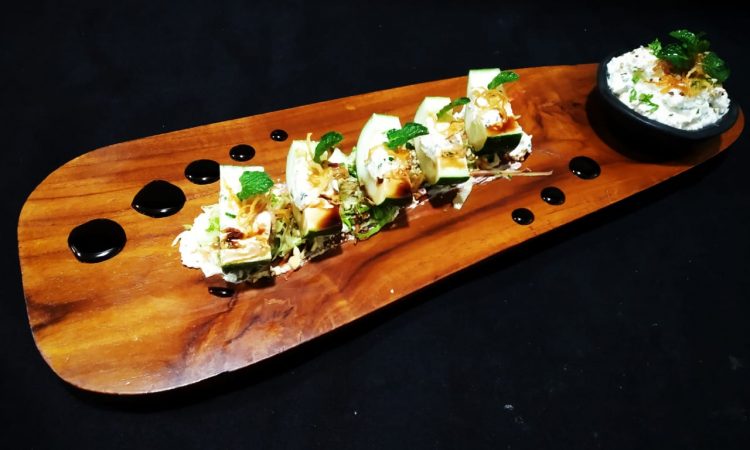 This is salad recipe preparation with stuffed seedless cucumber with fresh herbs and crushed nuts yogurt balsamic tahina dressing. Also we can say cold canapé or cold salad.
Recipe Type: Sauce                                                                              Style: French Cuisine
Method: Toss                                                                                           Serve: 1-2
Ingredients:-
200 gm. of Fresh Cucumber
2 Tbsp. of Brown Onion (Fried)
15 gm. of Carrot Strips
15 gm. of Cabbage Strips
15 gm. of Bell – Pepper Strips
2 Tbsp. of Balsamic Vinegar
Dressing:-
1 Tbsp of Olive Oil
3 Tbsp of Yogurt
½ Tsp of Tahina Paste
½ Tbsp of Fresh Parsley Chopped
½ Tsp of Fresh Mint Chopped
2 Tbsp of Roasted Crushed Peanut
¼ Tsp of Green Cardamom Powder
Salt & Pepper to taste
One pinch of Sugar Powder
Preparation:-
First of take a tight cucumber and do seedless between.
Take a brown onion or fried onion.
Cut of vegetables strips of (Carrot, cabbage & bell-pepper). Keep vegetables in balsamic & salt for 3-5 minutes and then it will left water. After then drained vegetables from water.
Then make dressing or filling for stuffing in cucumber. Take a mixing bowl and add ingredients (yogurt, tahina, olive oil, fresh parsley, fresh mint, crushed peanut, green cardamom powder, sugar, salt & pepper.
Mixing all ingredients for smooth texture.
Stuffed cucumber with smooth yogurt tahina dressing and cuts a bite size pieces.
After then platted plate with soaked strips of vegetables and plated stuffed cucumber bites on this.
Garnish with fresh mint leaves, brown onion & Balsamic.